Riko Ekos focuses on the quality production of systems for complete waste management solutions. Their main product lines include transport equipment, presses, cutting machines and systems for processing of materials. 
At Riko Ekos, they've always strived toward creating a completely personalized experience for their B2B buyers. All their product lines can be customized and tailored to each buyer's needs. 
Sales process challenges: Product customization
A personalized approach to configurable products is challenging in all stages of sales, from quoting to production. Riko Ekos was no exception when it came to customization at scale. 
In the early stages of the sales process, when buyers need to submit exact measurements and desired features, Riko Ekos was faced with the first major challenge. The company's B2B buyers often approached sales without any details — not even measurements or feature requests.
This lack of information dragged out back-and-forth communication, negatively impacting the entire sales cycle. Instead of creating an error-free order in minutes, sales reps spent days gathering the necessary information from their prospect.
Even then, the possibility of error was high. Sales reps were often challenged by an impossible-to-produce configuration or incomplete information discovered in the production phase. These roadblocks pushed the whole process back to square one: communication with the buyer. 
Multichannel inquiries: Confusion, delays and lost deals
The prolonged back-and-forth communication wasn't the only challenge in Riko Ekos's ordering process. Their buyers often received offers after several days or didn't receive them at all.  
Another downside of receiving inquiries or orders to a shared inbox is that it's impossible to track which offers have been sent out. In more than one instance, a prospect received two or more offers for the same inquiry, resulting in duplicated efforts and a poor customer experience. Not to mention, receiving different prices for the same inquiry. 
B2B partners and buyers end up confused and opting for the cheapest option while expecting all the bells and whistles in the final product.
Duplicated work, poor customer experience, delays and order confusion pushed Riko Ekos on a search for a better system.
The Solution: The all-in-one platform for order processing
Riko Ekos chose SaleSqueze, an B2B order processing platform for manufacturers, which created a unified system for managing sales inquiries and orders. This platform is built to offer complete transparency into the ordering and production processes: no more shared inboxes and duplicated efforts. 
Instead of relying on a few people within the organization to know the business logic of their products, SaleSqueze enabled Riko Ekos to set up a product catalog including configurations, pricing, procurement and discount policies.
The result?
With SaleSqueze, prospects and partners receive a complete offer that includes the correct business logic and pricing, independent of the sales rep or product type. 
SaleSqueze collects all the technical information needed to prepare a quote or order when the inquiry is submitted. The platform automatically generates an offer or order and removes the bottleneck of back-and-forth communication with the prospect.
This change enabled Riko Ekos to shorten the order processing time by 70%. 
Order generation in just seven steps
SaleSqueze empowers Riko Ekos sales reps to create an end-to-end order in 7 steps. The process is rooted in strong visuals that appeal to sales reps and B2B buyers. 
Users are guided through all seven steps of the ordering journey within the platform, accompanied by detailed descriptions and instructions for easier interaction and outstanding customer experience.
Transparent B2B partner involvement in the order processing
B2B partners are now fully empowered to independently research product configurations, pricing and product logic. The partners can then submit an order straight from the SaleSqueze platform without communicating with the sales reps. 
The SaleSqueze B2B partner onboarding process consisted of several phases to ensure everyone understood the value of the platform. First, orders were created by Riko Ekos sales reps using partner information. Once the partners became familiar with the platform, sales reps asked the partners to submit sales using SaleSqueze. Sales reps offered Riko Ekos partners full support in this transition phase. 
Partners can now independently submit orders and track the production process. They are delighted by the whole experience and the guided, digitalized process.
Unified system for tracking the whole sales funnel
The SaleSqueze platform unifies your sales process by storing orders and inquiries in one place. Thanks to the platform, sales reps no longer duplicate their work since they have a complete overview in kanban form.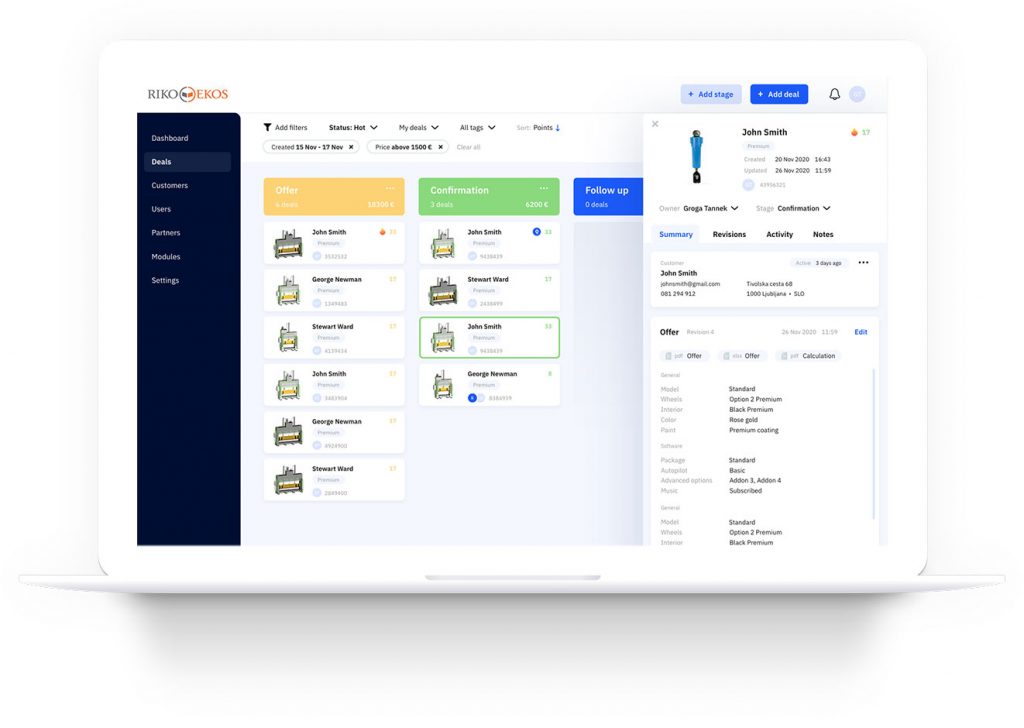 Streamlined process from receiving the inquiry to sending order into production
The standardized form for getting the necessary information in one place cuts down the time needed to prepare the order for production. Once the product is shipped to the final stage, SaleSqueze cuts the need to communicate with the B2B customer or adjust technical details. 
Here's what Rike Ekos says about SaleSqueze
"The team of experts at SaleSqueze always finds solutions to all our challenges. They helped us implement the order processing platform that reduces time spent on processing orders by 70%.""
— Marko Marjanovic, Executive assistant, Riko Ekos

Book a Demo with one of our

Experts

!