Sales cycles are not as simple and straightforward as they were in the past. Traditionally, companies send sales communications to prospective customers, but now, the onus is on the customers to start the conversation.
For sales professionals, this modern dynamic of consumer-initiated buying makes it hard to secure conversions, with the typical sales cycle running for weeks or even months, especially for complex products.
Thankfully, modern marketing technology has the answer:
This innovative sales tool simplifies and organizes the sales process, enabling teams to streamline sales pipelines, so they can close deals in a shorter amount of time.
This article will explore sales CPQ software to see how it facilitates a more immersive sales experience for customers and offers companies a higher return on investment (ROI).
What Does CPQ Mean?
CPQ stands for Configure, Price, Quote. A sales CPQ tool enables end-customers to generate error-free sales quotes for purchase orders quickly and without additional support by the sales team.
Companies often use CPQ solutions alongside CRM (Customer Relationship Management) platforms, leveraging access to business data and intelligence to ensure targeted and streamlined communication between leads and sales representatives.
Additionally, CPQ software automates quote creation according to a set of preprogrammed rules, which consider multiple factors, like account quantities, discounts, customizations, optional product features, and incompatibilities. Ultimately, this data-driven automation technology ensures error-free pricing and faster sales cycles.
The secret behind streamlined and targeted communication? Immersive customer experience.
How Does CPQ Technology Deliver Immersive Experiences?
People want to do their own research rather than be inundated with offers from sales reps.
And even when they do get in contact,  prospects no longer engage solely with a salesperson, as they base their buying decisions on independent research, gathered from a range of sources, including Google, forums, social media, customer reviews, friend recommendations, and free trials.
However, in the mix of channels, it's your goal to keep them focused and engaged with your team. And in order to keep prospects engaged, sales teams must provide a more personalized, immersive experience that resonates with the needs of each individual.
Here are a few ways sales CPQ technology makes the customer journey more immersive:
Personalized Marketing
Traditional sales cycles involve cumbersome spreadsheets and a certain element of guesswork. Now, with analytics tools, machine learning, and reliable customer data, we can use smart CPQ software to personalize the buying experience.
Sales CPQ software creates a more targeted customer experience as it custom-designs products to fit your customers' precise needs.
According to Epsilon, 80% of customers are more likely to do business with companies that offer personalized experiences.
By honing in on specific customer preferences, CPQ eliminates irrelevant offers, delays, and errors that can deter potential buyers. In doing so, this tool offers a memorable, personalized buying experience that increases the chance of a transaction, and also, keeps customers coming back for more.
Real-time Customer Insights 
Software-as-a-service (SaaS) applications are data-driven, with the cloud's speed, storage, and real-time analytics capabilities offering rapid, accurate business insights.
When you use a CPQ in tandem with a cloud-based SaaS application, such as your CRM or ERP systems, you can get real-time insights into customer behaviors.
For example, your company could monitor browsing behaviors on your website and social media pages on Black Friday. This increased visibility allows you to make adjustments, nurturing leads, and tailoring product recommendations.
Learn how a blinds solution provider made 380 % more offers with our CPQ tool.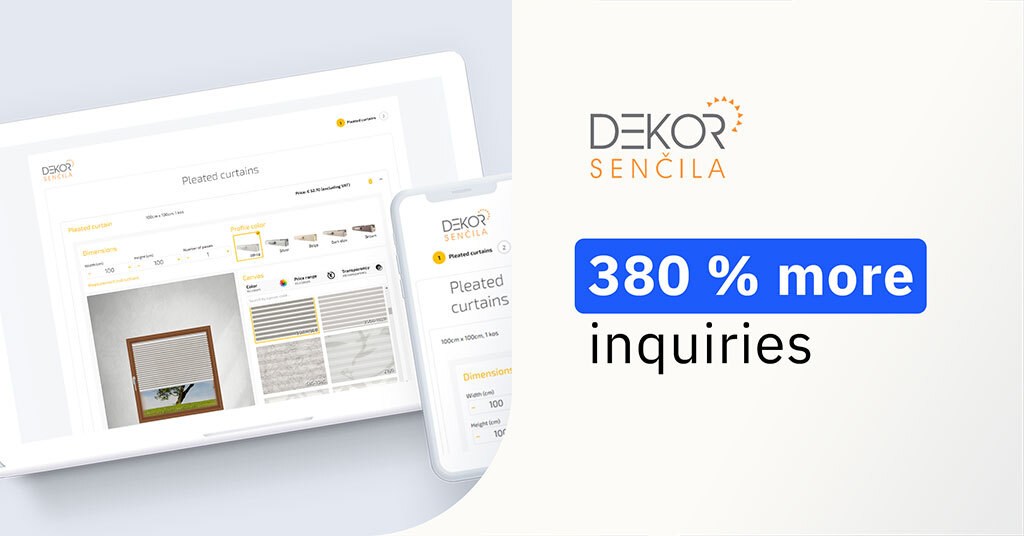 How Does CPQ Increase Deal Size?
According to SuperOffice, sales CPQ software helps companies close deals 105% larger than the average size. 
Here is seven ways sales CPQ software impacts sales growth:
1.

CPQ Quickly Scales Product Knowledge
It doesn't matter if you're in e-commerce, manufacturing, house & garden, or beauty. If your customers know more about your product and you know more about your customers,  you can increase your sales success.
While B2C companies leverage CPQ software for direct conversions, B2B companies can also benefit by implementing the system to assist sales reps with product recommendations based on their prospect's specific needs.
Either way, with this technology, your sales reps don't rely only on their training or the help of SMEs (Subject Matter Experts) who can provide expert knowledge about the products and pricing guidance. They can leverage the CPQ to enhance their knowledge and improve their ability to customize offers and close deals.
Additionally, CPQ software in B2C companies helps to scale product knowledge of their end customers. They can try different combinations of features, sizes to learn about your product and understand its capabilities. All of that without any point of contact from your side.
2.

CPQ Eliminates Complex, Repetitive Tasks
According to Hubspot, sales teams spend only a third of their day doing sales. They must perform a range of complex and repetitive tasks, which can consume a lot of time in the day-to-day duties of their role – among them are creating proposals, quotes, and communicating them via email.
By bringing sales CPQ software in, a company can benefit in several ways:
Improved consistency in presenting information to prospects
Faster quote completion
Centralized repository of generated proposals
Alerts to ensure your team doesn't miss renewal dates and forget proposal expirations.
Even the most experienced salespeople can make mistakes, that result in prolonged deals and can impact their trustworthiness. CPQ automates repetitive workflows to save time and increase business efficiency.
3.

CPQ Drives the Sales Conversation
So, as CPQ cuts back on the time your sales team spends on low-ROI administrative tasks, you free up sales reps to drive the sales conversation.
Once you have these administrative roadblocks out of the way, you can maintain momentum, effectively creating a smooth, seamless sales cycle and a more enjoyable experience that keeps your customers interested. When a business offers CPQ, users have reported 10 times faster quote generation, with a 95% reduction in approval time.
By implementing CPQ to generate offers, sales representatives can get a better understanding of the prospect's demands. Therefore, from the first point of contact, the sales conversation is more targeted to the prospect's needs, which saves the sales rep from wasting time describing the product and trying to figure out what the prospect has in mind.
4.

CPQ Generates Error Free, Accurate Quotes
A quote entails all the information a customer needs to know about a product, and a well-designed one is crucial to make sales.
However, it is time-consuming to assemble quotes manually. With customers to attend to, quotas to meet, and admin tasks to perform, it would be almost impossible to guarantee impeccable quotes.
Deploying CPQ software solves this problem by creating an automated and accurate quoting process. Axiom reports that sales CPQ software increases quote productivity by 33% and reduces the number of quote revisions by 13%.
5.

Streamline internal Processes
CPQ increases the efficiency of your sales team by reducing the time spent on each stage of the sales process in several ways:
Minimizes time spent on administrative tasks and the quoting process.
Giving sales reps an accurate and automated process to configure, price, and quote products or services.
Notifying the head of the sales team when their approval is needed for a sale.
Allows the sales team to generate customer-facing prices, quotes, and contracts at the touch of a button.
Through the optimization of internal processes, companies can close more deals and increase sales values in a shorter space of time.
6.

Improve the Deal-Approval Process
Approving a deal in several organizations is often a prolonged process that involves several decision-makers. When you introduce CPQ into your sales system, it can dramatically reduce the deal-approval period with the following features:
Approval Notifications: CPQ hastens approvals compared to manual approaches because it notifies appropriate decision-makers the moment their authorization is needed.
Quick Access to Information: Before approving a deal, you must get information about the exact product or service involved in the deal and the deal information specifically. CPQ provides this detail on a screen or in an email.
Deal-Approval Visibility:

CPQ handles approval processes using a visibility approach by ensuring that the deal's progress towards approval is clear to everyone involved. It also gives updates when a deal is approved or rejected at any step. 
7.

Maximize Sales & Revenue
Companies that use CPQ generate 8.2x wider profit margins and 7.5x higher year-over-year increase in customer renewal rates.
You can use this software to drive revenue in a few ways:
Cross-selling and Upselling: With CPQ, it is easy to show customers other products (which usually are higher-margin products with great profit) that complement the main product.
Pricing Decisions: CPQ makes it possible for customers to get insights into different pricing options from the start, making it easier for them to decide and increasing the overall transparency, and trustworthiness of your business.
Earning Opportunities: A salesperson can link their sales commission system into CPQ to maximize opportunities to earn, incentivizing faster sales cycles, and targeted conversations.
Wrap Up: Sales CPQ Unlocks Profitable Customer Relationships
Companies that know their customers on a deeper level, understand their sales system, and use customer data will invariably offer a better customer experience that increases customer satisfaction and loyalty. Moreover, it will help the company drive profits and get an edge over their competitors.
By integrating CPQ into your sales system, you give your sales team the tools and insights they need to understand your customers. With this knowledge and the time-saving automation capabilities, CPQ delivers personalized recommendations and faster, error-free quotes.
Better yet, a CPQ integration promotes not just sales but collaboration, transparency, and accountability, facilitating an immersive experience that customers love.
If you are not already using CPQ to build stronger customer relationships and revenue, there's no time like the present. Discover how our customer-generated almost 300 leads, increased their quote generation by 380%, and improved their conversion rate by downloading their customer story.
Discover how Dekor Sencila increased their offer generation by 380% and improved their offer-to-payment conversion to 17%. 
Learn how a blinds solution provider made 380 % more offers with our CPQ tool.