Sales automation is the process of streamlining manual, tedious, and time-consuming tasks in the sales process. Thus, the sales team focuses less time on administrative tasks and can consequently devote more time to establish personal contact with the customers. Administrative duties include preparing offers, data entry, writing e-mails, and other tasks that sales reps perform daily, weekly, or monthly.
The Salesforce survey, which analyzed 2,900 salespeople worldwide, found that salespeople spend only 1/3 of their time closing deals. The rest of their time, they spent on administrative tasks such as preparing offers and coordinating with customers.
Are you aware that a salesperson spends as many as 26 hours a week on administrative tasks and only 14 hours on actual sales? Sales automation allows the salesperson to get rid of administrative tasks and dedicate 100% of their working day to maintain relationships with customers and closing deals.
What benefits does sales automation bring?

Thanks to the sales automation, sales reps using CPQ software can gather all the necessary customer information and save up to 70% of their time previously spent on manual quoting. 
Sales automation's inherent functionality is contact prioritization, which empowers your team to monitor your sales funnel by stages. With this functionality, sales reps know which prospects are more likely to convert and direct their efforts to the right person. With sales automation, companies have a streamlined and error-free sales and manufacturing process.
 More information about customers
Every salesman's dream is to be aware of all prospects' wishes and needs before making a contact. Based on this information, the sales rep can prepare an informative offer without ever speaking to a prospect.
CPQ
CPQ stands for Configure, Price, Quote and it refers to software used by manufacturing companies that are producing quotes and are processing orders for configurable products. (Doors & windows, Pergolas, Shades & canopies, Home equipment & furniture, Pools & hot tubs, Garden & patio equipment, Home repair & maintenance)
Configure
The trend of massive customization is on a rise, which means customers increasingly want products tailored to their specific desires. Just think of Tesla's configurator, NikeID sneaker configurator, Bugaboo Stollers, … It only makes sense the experience of completely personalizing a product is the same when buying from larger manufacturers.
Manufacturers need to understand, that the landscape has changed. Forget about limited choices and limited options. If you are not able to provide exactly what people are looking for, they'll move on to the competition.
Price
Maybe you manufacture products with little variability, if this is the case, pricing might be relatively straight-forward. But, when your products are extensively configurable, you need accurate pricing across sales channels. Just think about discount approval workflows and structures. What about all those loyal-clients and their specific pricing rules? Now think about pricing based on BOM (bill of material), production costs, multiple feature options.
With CPQ software you can have multiple pricing rules, but you can track all of them to ensure all quotes are accurate.
Quote
The quote is a formal document, which means that the information you are presenting to your customers must be clearly laid out and easy to understand. Professional document eliminates confusion which eliminates rework, customer concessions, and product returns.
SaleSqueze also includes product visualization to allow customers to see 2D and 3D representations of the product. Having a clear picture enables the customers to have a better understanding of the offer and provides them with the ability to confirm that the product is consistent with their intent.
4 essential benefits of a CPQ software
Faster product configuration: 
CPQ simplifies even the most complex products and eliminates errors.
Streamlining the sales process: 
An order can be finalized and moved into production in a matter of minutes.
Standardized pricing: 
Sales teams don't need to spend hours memorizing all the product variations and pricing structures. All the rules are built into the software.
Improving customer satisfaction: 
Because CPQ software lets customers experience the desired products in 2D and 3D, they know exactly what they are getting.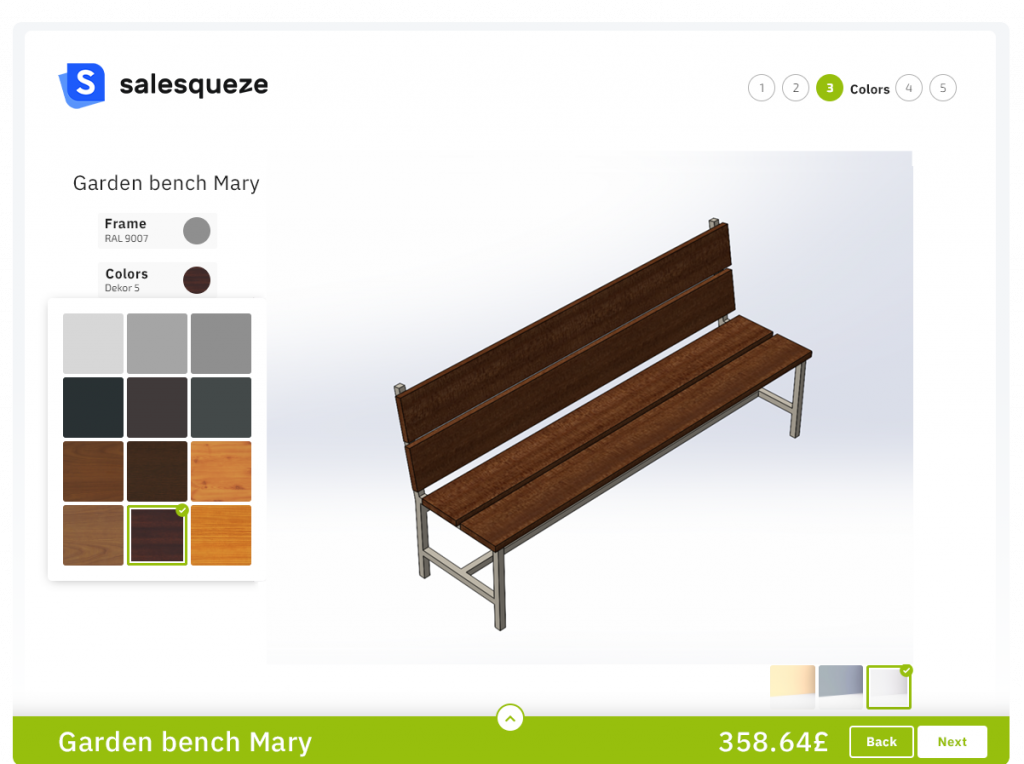 LeadGen
Nowadays, data is the leading force of growth. Even companies that are not marketing/selling complex and personalized products want to know everything about their prospects before making the first contact.
That's why customer data serves as a qualification criteria. In a B2B world, companies are looking to get their hands on prospects' company size, industry, revenue, etc.; therefore, they are abandoning their obsolete inquiry forms and replace them with lead generation configurators.
If you think about it, it all makes sense. Usually, the sales process is long(er) when you compare it with the fast and furious B2C world, and no one wants to lose time working on unqualified leads. They steal your sales team focus, time, and company resources.
Experience SaleSqueze LeadGen in action. Take a look at our own SaleSqueze product configurator or the one we did for one of our clients – Elaphe.
Dynamic Pricing and Document Automation 
Dynamic pricing and document automation are essential when you want to focus on closing. It enables flexibility and agility to ever-changing market conditions, ensuring you always charge the right price, at the right time, to the right customer.
From a customer point of view, the buying experience is significantly better, since they instantly know how much your product will cost, as they configure it. Not to mention, document automation pushes and improves the buying experience further. Document automation lets your customer configure your product and receive quotes when they finish.
From a business perspective, empowering your customers to configure your product and see the prices dynamically change is a huge conversion rate booster. With document automation, you have complete control over branding, logos, product visuals, pricing, terms, etc. and you also have a full control over your sales funnel analytics. More on that below.
Complete Sales Funnel Analytics
Few companies have a detailed overview of their sales funnel by stages, and even fewer know precisely in which stage a specific prospect is located.  
That's why the dashboard is an essential part of the sales automation.
Sales reps can monitor their prospects by stages of the sales funnel and plan follow-up actions accordingly.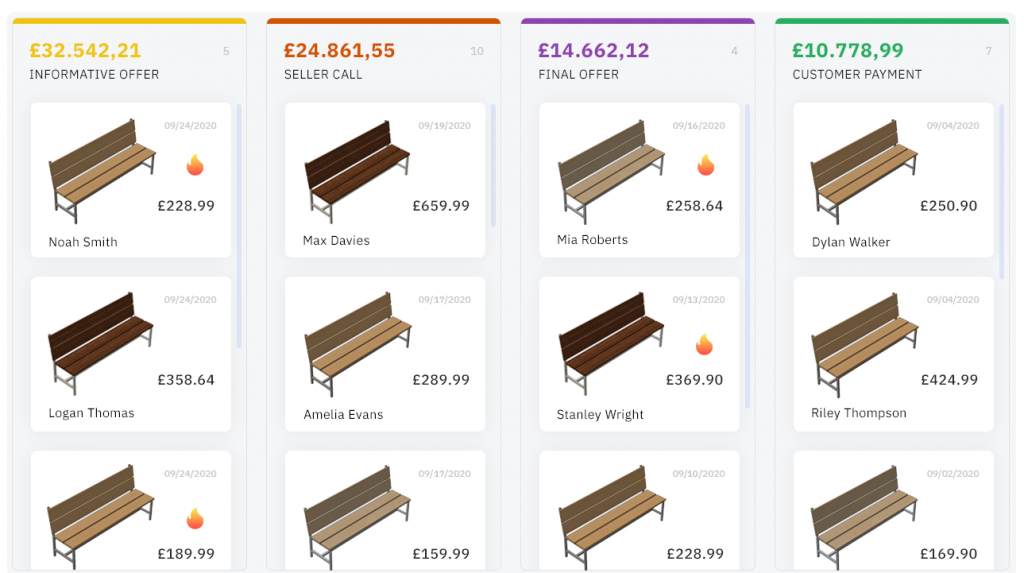 Lead Scoring for Manufacturers and Why Do You Need it?
We all know that all leads are not equal; that's why we often refer to them as "cold," "warm," and "hot."
Sales teams want to ensure that they are not wasting efforts on unqualified or cold leads, which is what lead scoring is all about. To gain a deeper understanding of your lead's level of interest and sales-readiness.
Lead scoring attaches pre-defined values to leads based on their behavior and likelihood to prefer desired actions. (Time spent on the configurator. Drop-off rate for each step. Did he/she open the email with the offer? Did she/he click the link to the quote? How much time did she/he spend on the quote? What was her/his follow-up action?)
In SaleSqueze, a higher probability of purchase is indicated by the fire symbol
When a fire symbol pops up, the sales rep knows that a potential customer has shown a certain level of interest in the product and is more likely to buy.
Sales success directly affects the final business result and is a key element in making strategic and tactical decisions. Sales automation allows us to accurately predict sales revenue for a given period.  The dashboard shows the total value of potential customers for each phase of the sales process. Based on past data, you can calculate the conversion between individual sales stages. Depending on the flow between the stages, the sales forecast could be made.

Sales automation also provides a unified sales process that offers the same user experience for all customers. Regardless of which sales rep in the company is dealing with a potential customer, he receives the same processes, pricing policies, and discount policies.
A unified sales process is extremely important when a large fluctuation of employees encores. In the case that the sales representative leaves the company, his clients are taken over by his co-worker. The dashboard allows the co-worker to receive all the necessary information to be able to plan further sales activities with the customer. The importance of sales automation is also shown to be a great advantage when a new member joins the sales team. Deploying a new sales rep is much less time consuming if the procedures are supported by tools.
Sales automation is not only important in companies that use lean operations, but it must become a priority strategy of all companies. Sales automation relieves the sales team of administrative tasks and gives them more time to close deals. Administrative tasks, which include the preparation of offers, are time-consuming work that certainly does not bring satisfaction to employees. By automating sales activities, salespeople will be more satisfied with their job. They will focus on sales activities that directly affect KPI sales and profit or loss.
Book a Demo with one of our

Experts

!