Salespeople who deal with complex and custom-made products in a B2B market spend a huge amount of time manually preparing offers and dealing with customer orders.
Our experience shows that sales representatives need 2 to 7 hours to prepare a complex offer. For some industries, offer preparation can take 3 to 6 months! One example is the construction machinery manufacturing industry – with so many specific needs, creating an offer is an incredibly complex task.
B2B companies that market complex products are usually so focused on production processes that they neglect the customer-facing side of the business. As a result, they end up delivering a poor buying experience, which can scare away qualified leads and cost them sales deals.
Let's take a look at what usually goes wrong.
When the sales team is not actually selling
B2B companies that sell complex and custom-made products usually use indirect channels that include distributors. If they don't have a strict ordering process in place, distributors will send them unstructured orders through a variety of channels: email, phone, and even fax (yes, still!).
As well as being a bottleneck in sales, the process of sorting and entering these orders into an ERP system is prone to human error. While an ERP system is very useful for integrating different functions in the company, it usually doesn't offer vertical integration or business ordering rules. What's more, many sales departments still use Excel as their go-to software, which is by no means suitable for automation, digitalization or agility.
The sheer number of administrative tasks that can't be automated using the tools above leaves sales representatives with less time for closing deals and building strong relationships with customers – something which is crucial for customer retention in B2B markets. 
Not enough companies are aware that sales administration can be automated when it comes to complex and custom-made products. The fact is, automation brings greater benefits and savings to these B2B businesses compared to companies that sell off-the-shelf products.
Let's see why.
Example: Unorganised sales processes affect the whole company
Take a look at the following example, which focuses on an extremely successful Slovenian company operating in the field of industrial and mechanical components. 
The company employs 15 sales reps. Their primary (and often only) task is to accept distributors' orders and enter them into an ERP system. 
In order to answer an enquiry or create an accurate order or quote, these sales reps need to know the whole business logic behind the products and everything that the company has to offer.
Every single product that the company offers is customizable, so it can take new sales reps up to 24 months to learn everything they need to know for preparing an offer and making a successful sale.  A new team member has to be mentored by another experienced sales rep, making the introduction process very time-consuming and expensive.  
Due to the absence of a single ordering platform that would streamline the sales funnel, there's a lot of confusion when it comes to bills of materials and ID numbers. With so many possible variants of most products, preparing all bills of materials in advance is near impossible. This confusion leads to inefficient production and planning. 
As you can see, the salesforce of this company – and many others – dedicate a huge portion of their work to tasks that don't directly add value to the company. These are tasks that could be replaced by sales management software.  
We'll now look at exactly how you can move a prospect through the sales pipeline in a more efficient and personal way, giving you a better chance of closing a deal. 
How a CPQ sales system automates and solves sales administration
The CPQ (Configure, Price, Quote) sales system is primarily designed for the sales departments of companies that market complex products, industrial components and semi-finished products. 
The CPQ system is based on an advanced catalog that contains the entire business logic behind the product, its structure, relations and ordering rules. The catalog also contains pricing and discount policies, so sales clerks don't have to rely on their own memory, notes, or complex Excel spreadsheets for calculations.  
The CPQ sales system automatically creates quotes and orders for your products that closely follow your business logic. It can speed up order creation for your sales team, but it can also be used directly by your customers as a product configurator. It empowers them to specify what they need, then place an order or send an enquiry without any unnecessary communication. Once that's done, it automatically sends them an offer and breakdown of their order and materials.
The CPQ sales system is integrated with ERP and CRM systems, ensuring complete transparency and control over the sales process.
It also facilitates an organized and correct flow of information. When a certain combination of products is ordered, it can automatically create non-existent bills of materials in an ERP system. This helps the company to manage its production process, work orders and production planning.
CPQ as a product configurator creates a better user experience
CPQ tools designed for most B2C (and some B2B) companies employ a user-friendly interface called a product configurator.
Why? Because simplicity and ease of use are key when it comes to ordering complex products. A product configurator is a great tool to help sell products such as windows, garage doors, pergolas, swimming pools, and even machinery. 
The configurator allows users to tailor the product to their needs by choosing the product's properties, such as dimensions, color, shape, technical properties, materials and so on.
Some product configurators also allow users to calculate the product's price in real time – the price changes as users swap or add features. Other configurators offer 2D or 3D rendering, which makes it easier to visualize the product before buying.
By immediately offering this kind of information, a product configurator shortens the sales cycle, generates interested new leads and frees up the sales team's time, so that they can focus on closing the deal instead.
How can a CPQ sales system tool benefit your business?
1.

Faster response, no human errors
B2B customers usually know exactly what products they want. In the past, the company's purchasers placed their orders via email, phone call or even fax. Today? They can do it through the CPQ sales system. There are no human errors, and back-and-forth communication is a thing of the past. The response to their enquiry is quicker and the customer service better.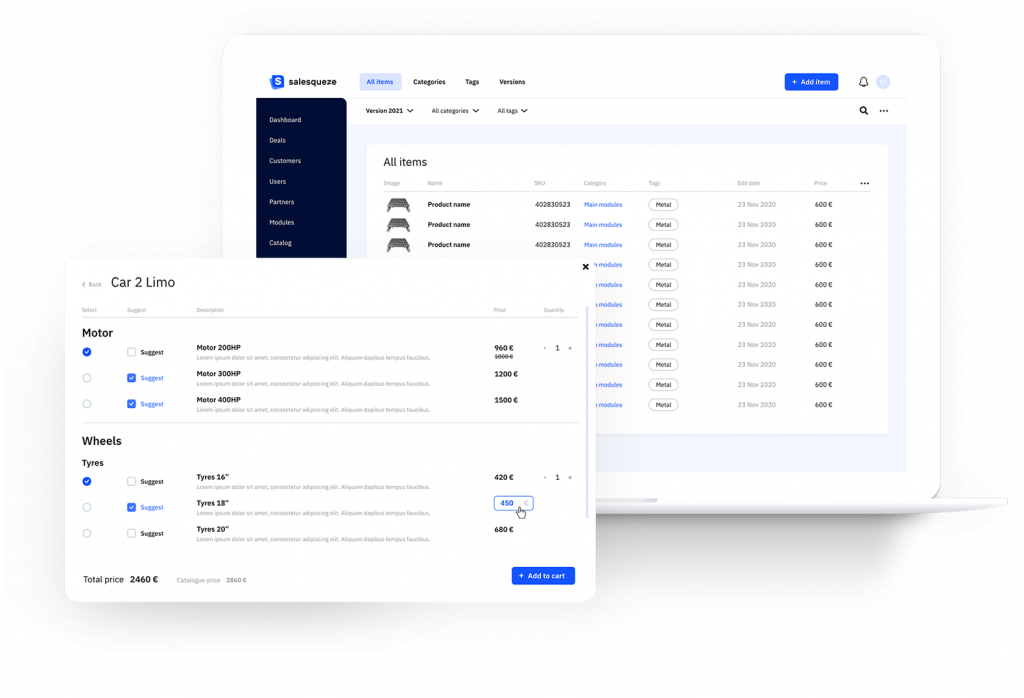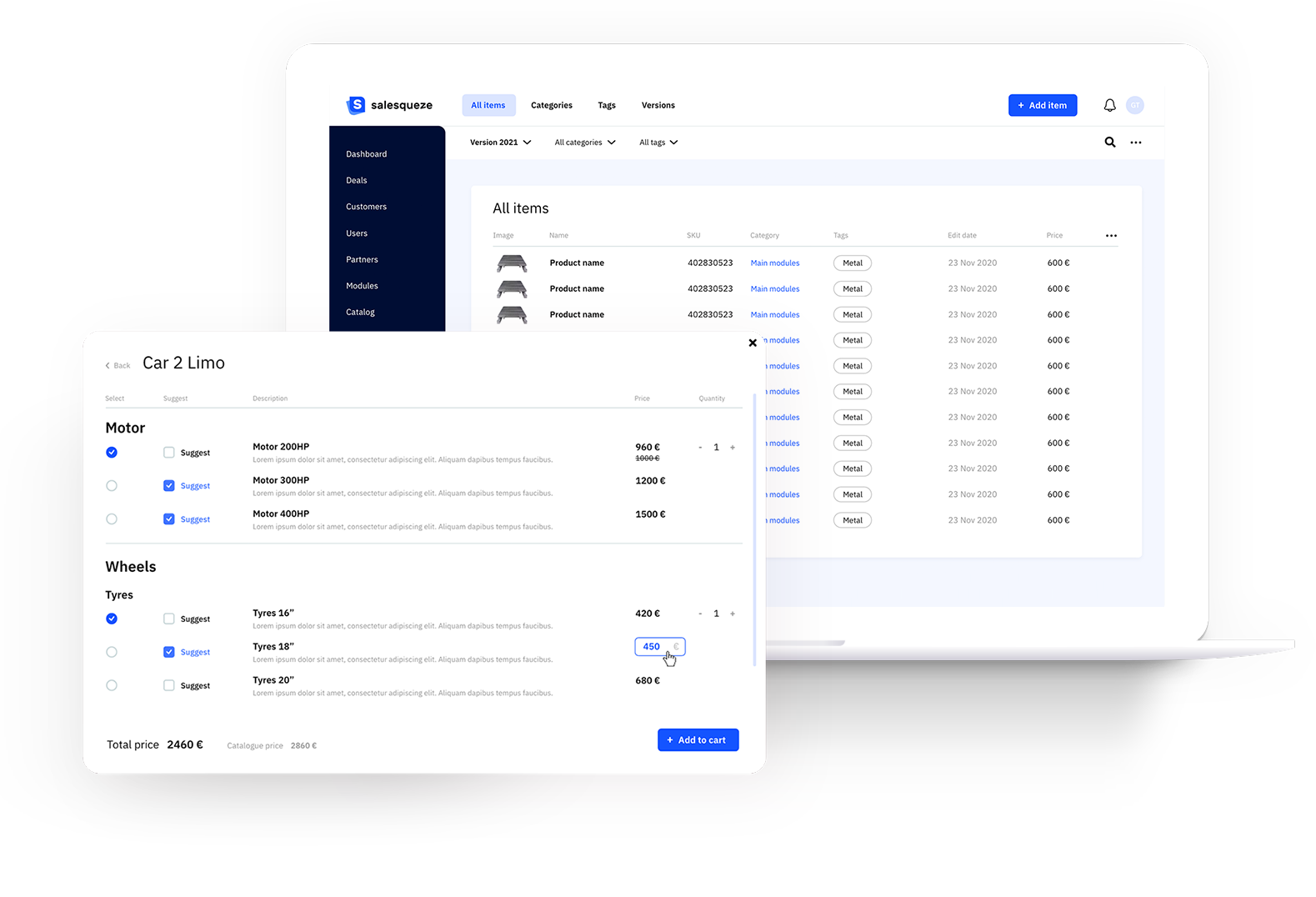 2.

Cut time spent on sales administration by 70%
The automated process of preparing offers and ordering can save up to 70% of time in sales administration. Instead, these hours can be devoted to customer care and closing deals. Business logic is built into the system, which makes employee onboarding fast and easy.
"With the SaleSqueze Sales System, we digitized and automated the sales process. This saved us 70% of the time spent for administrative sales tasks."
— Luka Ambrozic, Elaphe, Head of Marketing and Sales
3.

Transparent delivery process
Customers and partners can access the ordering tool and monitor the order throughout the entire delivery process. Documents from the ERP system and other systems are attached to the order: confirmation, invoice, delivery note, documentation, etc. This eliminates even more unnecessary communication, as customers no longer need to go through the company to check their order status.
4.

More efficient production process
Bills of materials are automatically created in the system and are then transferred to production through the company's standard processes. This streamlines and accelerates the production process, as bills of materials don't need to be generated manually – a process which can take days, or even weeks.
Wrap up

CPQ tools are becoming indispensable in the sales departments of companies that sell complex products. Together with CRM and ERP tools, they use automation, customer data, analytics and advanced processes to increase business' capabilities.
The CPQ side of sales automation brings many benefits, most notably increasing the efficiency of sales departments. Sales representatives spend less time on sales administration tasks and can focus more on closing deals, building relationships, improving sales strategy and undertaking other work that adds value to the company. 
Enable digital sales for your company and customers.
Start with
SaleSqueze Visual CPQ