How to get garage door leads online with visual CPQ?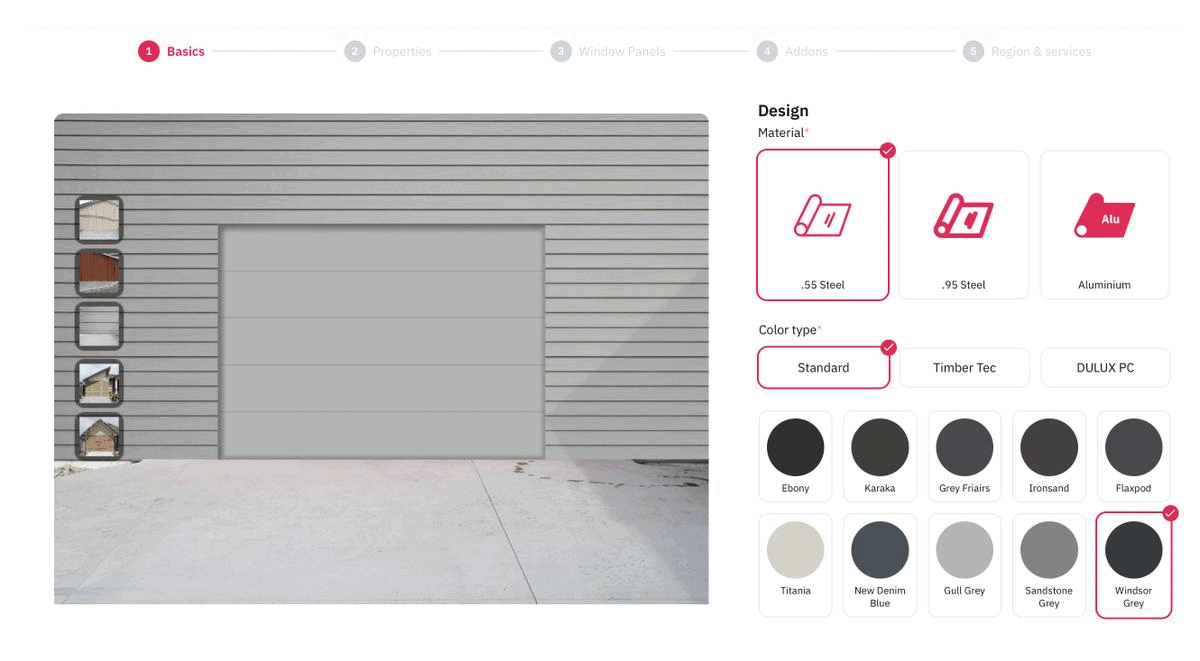 Lead generation is vital to the survival of any business. In the home repairs industry, a proactive approach to digital marketing can reap massive rewards, as people are spending more time online than ever before. So, if you want more garage door leads, the internet is the best place to start.
This article will discuss the merits of a Visual CPQ for garage door manufacturers to help you generate more garage door leads and grow your business on the back of stronger customer relationships.
SEO and ads won't deliver quick garage door leads
Search engine optimization (SEO) is an integral aspect of modern marketing, but it is far from infallible. This strategy is proven to deliver fantastic results through organic search and clever targeting of your audience and their search behaviours. 
However, the major drawback of SEO is that it remains subject to ever-evolving search engine algorithms. Also, even the most focused SEO campaign takes time to effect change, with 6-12 months a modestly realistic timeline to see tangible results.
Paid advertising on Google or social media offers companies a fast track to generate leads and spread brand awareness. Like SEO, a better understanding of your audience will go a long way to maximizing your returns through this channel. You can collect and analyse data from your social media channels and websites and use the information to guide your ad content and targeting.
If you choose to run ads without a firm understanding of your audience, you could lose a lot of money in paid advertising. If you're running a paid ads campaign to get more garage door leads, you'll probably need hundreds—even thousands—of clicks for the campaign to be profitable.
So, if SEO takes a long time to work and paid ads are prohibitively expensive for your company, what's the best way to generate garage door leads?
The answer is to use a visual CPQ (Configure-Price-Quote) platform.
The benefits of generating leads with a Visual CPQ for garage door manufacturers
Visual CPQ for garage door manufacturers is software that acts as a centralized system for managing your ongoing communications with every prospect. With this system, sales, marketing, and customer support teams have real-time access to updated information that they need to handle customer queries, dispel doubts, discuss products and promotions, and make relevant upsells and cross-sells. 
When it comes to garage doors, SaleSqueze makes life easier for companies by enabling your sales team and customers to quote and order your products through a unified CPQ sales system. By simplifying sales operations,  you can offer an improved quoting process that is faster and more accurate.
Let's explore the business benefits you can get from using a Visual CPQ like this to manage your leads and how your audience would benefit.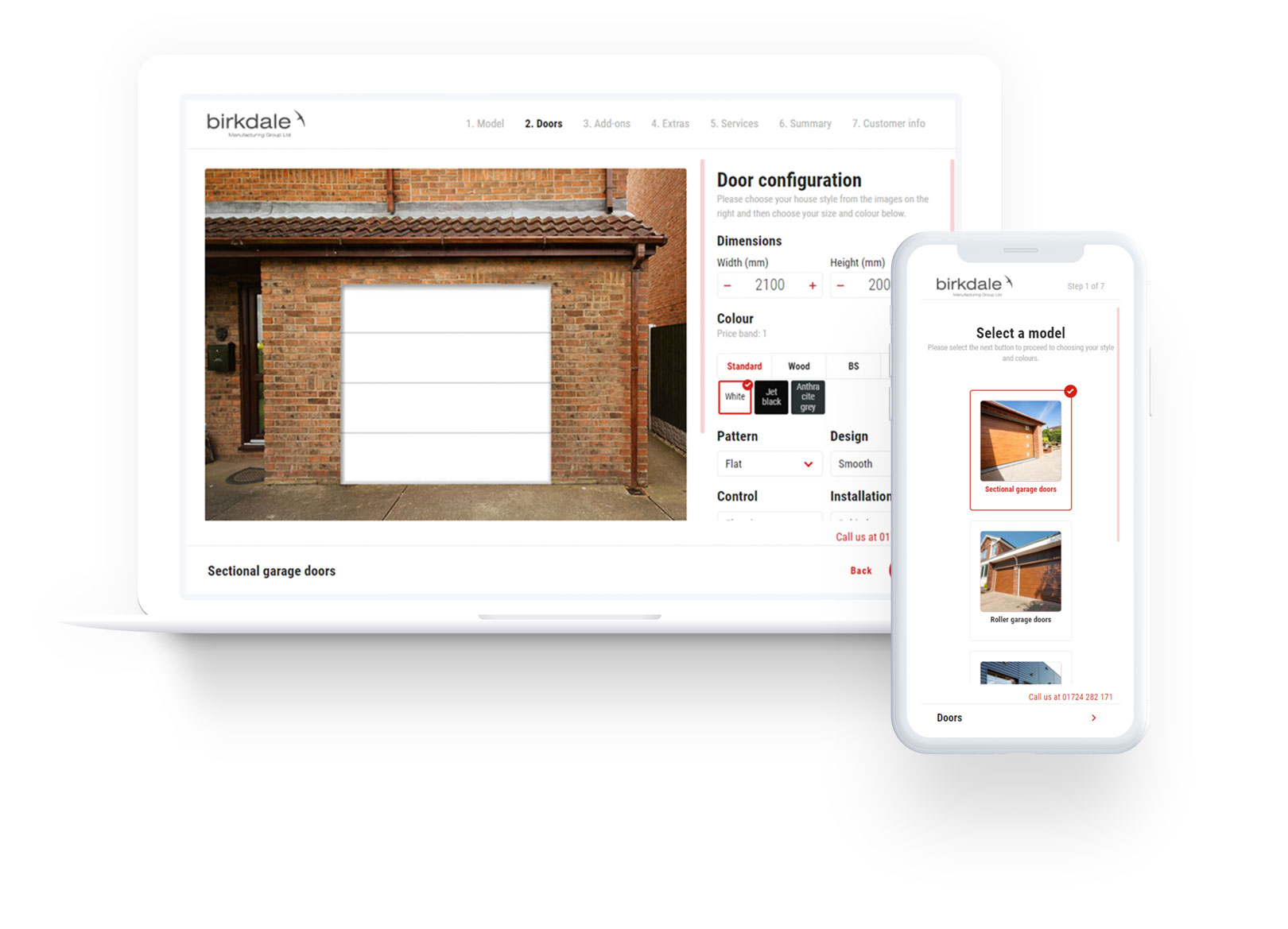 Visual CPQ for your company: Get more than garage door leads
Your Visual CPQ can quickly become your primary asset for driving garage door leads. But having more leads without an efficient process to organize and interact with them can become counter-productive. Here's where a visual CPQ comes in handy:
Complex Product Options:

Garage doors come in various styles, materials, colors, and features. A visual CPQ simplifies the selection process by guiding customers through available options, making it easier for them to create a door that matches their requirements.

Customization:

Garage doors often need to match the architecture of a home. A visual CPQ allows customers to visualize how different designs, colors, and materials will look on their homes, enhancing their confidence in the purchase decision.

Reduced Errors:

By allowing customers to visually see their selections in real-time, a visual CPQ reduces the likelihood of errors in design and specification, which can lead to costly returns or rework.

Shorter Sales Cycles:

visual CPQ streamline the sales process by enabling customers to quickly design and order products online. This reduces the time needed for back-and-forth communication with sales representatives.

Lead Generation:

visual CPQ can capture valuable customer data and preferences during the design process, helping the company gather leads for future marketing efforts.

Marketing and Differentiation:

A visual CPQ can serve as a unique selling point for the company, showcasing its commitment to customer-centric customization and innovation.

Scalability:

As the business grows, a configurator can handle a larger volume of customization requests without significantly increasing human resource requirements.
Visual CPQ Benefits to Your Leads and Customers
Visual CPQ for garage door manufacturers drives value for your business objectives, but it goes beyond internal operations. The software also enhances the buyer experience in several ways:
Personalized Customization: Visual CPQ empowers customers to personalize their garage doors according to their preferences and the design of their homes. They can choose from a variety of options such as door styles, materials, colors, and hardware, creating a garage door that perfectly complements their home's aesthetic.
Visualized Design: Visual CPQ provides customers with a real-time visual representation of their customized garage door. This feature allows customers to see how different design elements come together and how the final garage door will appear on their property.
Enhanced Decision-Making: With Visual CPQ, customers can experiment with various design configurations, helping them make informed decisions. They can try out different window placements, panel designs, and color combinations to find the best fit for their home.
Immediate Pricing Information: As customers make design choices within Visual CPQ, they receive instant pricing information. This transparency enables them to manage their budget effectively and select options that align with their financial considerations.
Reduced Communication Barriers: In traditional scenarios, customers may need to communicate their design preferences to sales representatives, leading to potential misinterpretations. Visual CPQ minimizes miscommunications by allowing customers to visualize and choose their preferred design elements directly.
Confidence in Purchase: Seeing a visual representation of their customized garage door through Visual CPQ helps customers feel more confident in their purchase decision. They can rest assured that the final product will closely match their expectations.
How Birkdale generated 70 new inquiries in 10 days
Birkdale is a UK-based manufacturer of garage doors, roller shutters, composite doors, awnings, pergolas, patio enclosures, electric blinds, and more. Quality is at the heart of their business, as they continue to improve their products and the experience of the customers. 
The problem: Big advertising budget, low number of leads
Getting sales-qualified leads on a regular basis is how businesses thrive. To get them, Birkdale decided to invest in paid advertising. At first, it seemed like a good idea. However, it's hard to scale advertising without spending huge amounts of money and looking through the leads to get to qualified ones. 
And that's exactly what happened – spending thousands of pounds on paid advertising channels with no real results. 
The leads, which did come in, were hard to manage. The sales team could not keep up with potential customers, so they did not know how they should move through the stages of the sales process.
Another major issue was their offers. They lack information on what's included in the end price. 
The solution: Visual CPQ for lead generation, management, and streamlining of the production process
Birkdale implemented the Visual CPQ, which covered 4 types of garage doors: sectional garage doors, roller garage doors, industrial garage doors, and security window shutters.
From day one, Visual CPQ automated their online sales channel by empowering customers to create their own offers and simplifying the tracking of leads. This saves time, improves customer experience, and eliminates any errors within the process. 
By adding Visual CPQ to their website, Birkdale generated 70 new qualified leads in just 10 days with zero spent on advertising and no time invested into offer generation. 
Generate more leads and improve their management 
With a Garage Door CRM, your team can provide the right information, to the right person, at the right time. When you take this software to the next level through a unified CPQ system, your company can slash lead generation costs and shorten sales cycles.
Your sales team has the data insights and relevant information they need to deliver a better buyer experience. And customers can look forward to personalized support and marketing that speaks to their needs. Ultimately, this style of Visual CPQ for garage door manufacturers from SaleSqueze helps your company attract more garage door leads and close more deals. 
The days of relying on old, overpriced, and complicated software are over.
Make your sales digital with SaleSqueze CPQ
(or settle for "we've always done it this way")